Customer Reviews
Write a Review
Ask a Question
Filter Reviews:
hair
head
Slap
caps
colors
size
purchase
daughter
quality
place
11/30/2020
Jolene H.
United States
Sizing
First purchase and hat slides off I should have purchased with adjusting strap
11/30/2020
wyleara b.
United States
Absolutely love
These hats was initially gifted to me last year when I noticed a friend of mine was wearing them. They have now became my to too head gear. They are so versatile. I can sleep in them due to satin lining. I can dress them up and wear out and be just as cute and fly and wear them to bed and still be super cute without a bonnet. These will not disappoint!! Do not hesitate.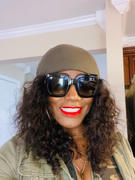 11/29/2020
Deidre C.
United States
Perfection
I've been looking for a satin lined cap for multiple reasons. I finally ordered during a buy one get one special. I am so glad I did. The size is perfect and the color is amazing. The cap is warm and comfortable, worn with natural hair and braids. I will recommend this to friends and family.
11/27/2020
Tekina A.
United States
Very Disappointed! Cheaply made!
My overall experience was short-lived. All of my fav popular Youtubers are what convinced me to order the caps. I have ordered from 3 other sellers and had such promise for the Grace Eleyae brand. With all the hype, I expected a better quality. It felt a bit cheaply made. Like maybe I received knock-offs. The seams are positioned strangely. Instead of lining up on either side of my head, because of the "label's" location, the seams run down down the middle of my head. Terrible! It is "made in China". Anyways, I decided to try the gray 1 out 1st. So, I wore it to work over a protective style. I have very thick 4b hair. Well, unbeknownst to me, the cap had slid off my head to the floor twice and infront of my colleagues which made me very self conscious the rest of my day. A few family members recognized the brand and became excited about feedback. Well, I wasn't too happy at this point. So to be fair, I wore the cap a couple more days around the house ONLY. The the little brown label was hanging on by a thread. Unbelievable! It wasn't even secured to the cap properly. Now its worked its way out completely on 1 side and dangles down the front of my forehead. How can this happen after less than a week? I took fotos. So, I just put it away and grabbed the "black" one. This one's label is at least sewn securely to the cap. I ordered this product solely based off of rave reviews and BOGO. Not sure what the return policy is, but I am definitely going to request one. I wanted to like them! They seemed such nice quality, but that was NOT my experience.
11/27/2020
Gladys H.
United States
My experience....
The first two hats stretched really bad ... The second hats that were sent had been great so far. The feedback and emails and new hats replaced has been great. Yes, I will order from you again.